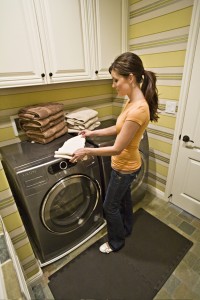 PVC flooring installation for your laundry room 
If you have a separate laundry room, you may want to consider installing PVC flooring. It may be the only way to ensure that you are less likely to slip or trip on the floor while doing your laundry. Most laundry rooms have either ceramic tiles or smooth concrete floorings, which, when wet, can be slippery and risky. If it's a PVC flooring solution you're after, there's no better choice than Norsk.
If you're thinking of installing the Norsk PVC interlocking flooring tiles in your laundry room, here are some installation tips:
 Make sure your laundry room is clean, unoccupied and dry. This will ensure proper fit for interlocking flooring mats.
Measure the flooring space that you intend to cover. If you don't want to get too technical, then you can approximate and scale how many PVC flooring tiles are needed to completely cover the area.
Begin laying down the flooring tiles starting from the center area of the flooring space. Extend outward the imaginary quadrant until you reach the edges of the laundry room.
To cover the gap near the edges, purchase Norsk™ trim kits. They are compatible with the flooring tiles so the interlocking edges will fit together. Use a utility knife to cut the overlapping parts of the area.
 Add finishing touches and fasten the attachments. Use a rubber mallet to pound the attached edges of the flooring tiles.
Norsk™ succeeds in proving they are reliable when it comes to flooring options with their wide range of high quality flooring mats. Their flooring products are designed with innovation and technology. To name a few, anti-fatigue and anti-slip properties. Thus, Norsk™ flooring tiles are very ideal for laundry rooms.
If you have further questions about our products, please feel free to browse the customer service blog. There are many helpful FAQs answered here. If you can't find your answer, you may email our customer service department at customerservice@norsk-stor.com or, for a quicker response, ask questions directly to our customer service's Twitter account: @asknorsk