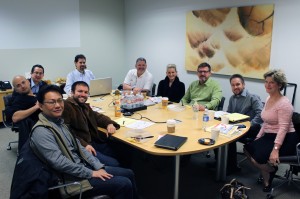 Here at The Parallax Group International, the parent company of Norsk™, we often get asked, "Why Norsk?" Read on as Bruce Thrush, President and CEO of our family owned and operated company, shares the story behind the name of our products:
Like most company founders, you start out to create a brand that has intrinsic value and meaning that directly emulates your vision for your products and your company. Quite often you even start with the basics – like keeping it simple and using a one syllable word. At the time I recalled thinking about Phil Knight in his garage making hand made running shoes for University of Oregon runners – what made him choose Nike and did he even dream that his brand would become so iconic?
After pondering this for quite sometime I came up with the word Norsk- which in literal terms means North or Norwegian, which is part of my heritage. The Norsemen were some of the fiercest warriors in history, but they were also tremendous explorers willing to risk the forces of nature to travel unknown parts of the world. They were extraordinarily creative and amazingly innovative – creating seaworthy vessels and weaponry that can't be replicated today, even with our advanced technology.
That same heritage of innovative design can be seen in Scandinavian culture today, the embodiment captured the term "simple elegance."
And so that's why at Norsk™, we are driven to do things differently. We consider how the design, quality and innovation of our products can be complemented by a superior team of people who truly care. Our goal is to offer exciting merchandise and a memorable experience for our customers, and that our products incorporate the latest technologies and feature high-quality materials at extremely competitive prices.
It is our sincere desire to share our inspiration with you. We strive to exceed your standards for products that are easy to use and that beautify and simplify your lifestyle. 
Bruce A. Thrush
President/CEO
The Parallax Group International, LLC
Simply put, when you purchase a Norsk product you can trust that you're getting a high-quality product that was truly designed to fit your lifestyle. If you ever have a question about our products, please feel free to tweet to us or visit us on Facebook or Instagram and leave a comment. Better yet, you can always ask us a question in the comment box below!
Make sure to connect with both Bruce Thrush and The Parallax Group International so you can stay up to date with the exciting things our CEO and our company has coming up in 2014.