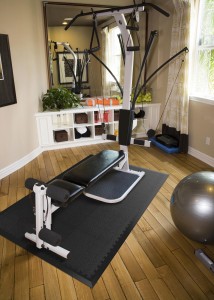 One of the biggest obstacles when investing in a commercial or home gym is choosing the right flooring. Cement is too hard. Wood, tile and laminate are all too slippery. Carpet absorbs dirt and moisture like a sponge, and is nearly impossible to truly get clean. And if that's not enough, the wear and tear of heavy equipment sliding around can wreak havoc on your walls.
That's why a majority of commercial and home gyms are now choosing Norsk PVC interlocking floor tiles, a more durable, cleaner, safer and easy to install alternative.
Durable
Durability is definitely an important feature when investing in gym flooring. That's why we designed our commercial grade interlocking PVC tiles to be flexible but tough enough to handle your heaviest of workout equipment. Their premium thickness (.250″/6.3mm) makes them functionally much stronger and they also include UV Inhibitors to fight color fade resistance. The Norsk patented tooth design is also much stronger than most tile designs, ensuring connectivity even during your toughest workouts.
Easy to Clean
Another great feature of PVC flooring is how easy they are to clean by simply using a damp mop or cloth with mild soap/detergent and water. Not only are Norsk floor tiles resistant to most chemicals and solvents, but Norsk PVC tiles also feature our Patented Air-Dry™ Technology, allowing sweat and other types of moisture to dry out before producing mold and that oh-so-familiar gym odor.
Safety
Aside from cleanliness, safety is also a major concern. Other surfaces can be slippery, especially after you sweat, creating an unsafe exercise environment. Equipment can also easily slide out of position, which is not only unsafe, but can result in damage to the walls or the machines itself. As fitness professionals, you know having a steady grip and a sturdy foothold is paramount when working out. The Norsk Sport Mats with Rhino-tec™, commonly sold as gym flooring due to the texture of the tiles, provide great anti-slip and anti-fatigue properties, giving you one less thing to worry about when you're pumping iron. On another eco-friendly note, our flooring is also environmentally safe because it's made from Recycled Materials, making it safe for the earth as well!
Easy to Install
Whether it's a large commercial space or a room in your home, we know ease of installation and maintenance is a top priority, allowing you to spend more time focusing on reaching your fitness goals. With Norsk PVC flooring, the traditional homeowner or even the most experienced handy person can easily install PVC floor tiles right over the top of your existing floor so you can easily replace a damaged tile or transition back to your original floor if needed. Our flooring is also portable! No adhesives are needed or recommended, allowing you to easily assemble a quick floor for temporary use at a trade show or a fitness competition.
Foam Mats
In addition, a number of fit pros are incorporating our softer, but extremely durable foam mats into their daily workouts. The Norsk reversible Sport Foam Mats are great exercise mats for push-ups, sit-ups, squats and more, when you need a little extra padding and support for your achy joints or back. Made from recycled materials, the Recyclamat design is also the highest quality sustainable interlocking foam mat in the market today and is portable so you can get in a quick workout anywhere!
For more information about how you can incorporate Norsk interlocking flooring into your commercial or home gym, visit our website or give us a call at (888) 443-9058.