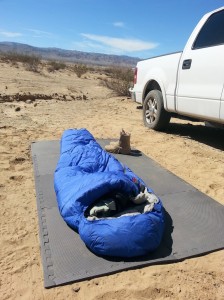 Summertime is the perfect season for a camping trip. Whether you're headed out for quality "bro bonding time," or a family vacation, there's nothing like letting go and de-stressing for a few days in the woods.
Here are a few tips and tricks to make your outdoor adventure the most memorable experience possible.
Baby's first camping trip? If this is your child's first camping trip, start with a campout in your backyard to ease your little one into sleeping in a tent outside, rather than his or her own bed.
Take NORSK! If you're sleeping in a tent, there's a good possibility that underneath your tent are rocks, sticks and gravel. Take it from Campy Mom, Norsk interlocking foam floor tiles are the perfect solution to create a soft, smooth floor surface inside your tent to protect all those feet. The foam tiles even provide a little extra cushion under your sleeping bag! You can buy your foam mats on Amazon.
Book your campsite in advance. The best way to ensure you have a spot when you arrive at your destination is to book your campsite in advance. Most campgrounds and parks take reservations by phone or online.
Don't forget the must haves. In addition to your tent and outdoor cooking utensils, there are a few things you don't want to forget. Be sure to pack: batteries, a compass, your digital camera, a first-aid kit, a flashlight or lantern, adapters to charge electronics in your car, hats, plenty of ice and trail maps or a guide so you won't get lost.
Keep bugs and critters away. Stock up on citronella-scented candles, bug spray to keep bugs at bay. Citronella tea light candles in empty glass jars placed around the campsite work like a charm. Be sure to store all gear, pots and utensils in plastic storage tubs with lids to keep critters like raccoons out.
Relax and have fun! Camping should be a relaxing experience for the whole family, not a stressful one. Keep in mind that not everything will go as planned, but that's part of the adventure! Just get out there and enjoy your time with Mother Nature.
For more tips for your next outdoor adventure, visit our Outdoor Adventures Pinterest board.
Norsk foam floor tiles are non-toxic, latex free, lead free and fire retardant. Norsk reversible interlocking foam mats are available in variety of color options and are sold in 4-packs = 16 sq. ft. These high quality grade mats are odorless and feature a patented reversible design, which is extremely functional, offering an infinite variety of uses and applications, including camping.